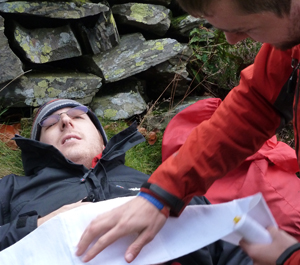 This REC Level 2, Mountain First Aid Course is specifically designed for mountain enthusiasts or professionals. This First Aid Course is especially relevant for Mountain Leader (ML), Single Pitch Award (SPA), Industrial Rope Access Trade Association (IRATA), Mountain Instructor Award (MIA) and Mountain Instructor Certificate (MIC) or anyone who spends time in the mountains recreationally. All the topics from REC Level 2 Outdoor First Aid are covered but there are extra topics specific to High Altitude First Aid.

Due to the extra day there is more time to go into detail on specific mountain injuries and illnesses and run a scenario at the end of the course.
COURSE TOPICS
- Basic Life Support and CPR.
- Vital signs.
- Shock and bleeds:
Internal and external bleeds, minor and catastrophic bleeds.
- Life threatening injuries: chest injuries.
- Causes of unconsciousness including faints, electric shock, drowning.
- Medical emergencies:
Asthma, heart attacks, angina, epilepsy, diabetes, anaphylaxis.
- Common outdoor diseases:
Ticks & Lyme disease, Weils disease, weaver fish, jellyfish stings, adder bites.
- Sprains, strains, fractures and dislocations.
- Environmental injuries:
Hypothermia, hyperthermia (heat and cold related conditions).
- Environmental injuries:
Frost nip, frost bite and Cold immersion.
- High Altitude Medicine, AMS, HAPE and HACE, complications of altitude.
- Expedition medicine; medical emergencies; infections.